Joel Alalantela
Dancer-choreographer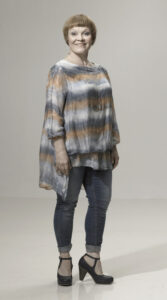 Suvi Eloranta
Dancer-choreographer
Suvi Eloranta trained at the London Contemporary Dance School and the London Studio Centre. In 1992–93, she performed as a dancer in the production of Cats in Amsterdam. She became a permanent staff member of Dance Theatre MD in 1998. Suvi has studied singing since 1994 under Kirsti Jokiaho-Savolainen, Satu Sippola and Seppo Ruohonen, completing her level D studies with excellent grades in 2010. In 2000–08, she performed as a singer with a variety of Tampere-based choirs, including the Tampere Opera Choir. Suvi also serves on the artistic board of directors for the Tampere Dance Current Festival.
Klaara Haapanen
Dancer-choreographer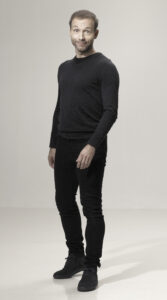 Samuli Roininen
Dancer-choreographer
Since graduating from Turku Arts Academy (1993–1997) and training at Rotterdamse Dansacademie, Samuli Roininen has performed in over twenty countries. In the Netherlands, he danced in choreographies by Josette Baïz, Martin Butler, Nils Christe, Nacho Duato, Hans van Manen, Jiří Kylián and Piet Rogie among others.
Samuli has been working as a dancer-choreographer for MD since 2003, collaborating with choreographers Helena Franzén, Tommi Kitti, Jenni Kivelä, Jyrki Karttunen, Ari Numminen and Liisa Pentti, and director Anna-Elina Lyytikäinen, among others. He has worked frequently as a guest choreographer and teacher for many theatre and dance companies and institutes, including the Finnish National Opera Ballet School and Tampere Conservatoire.
Samuli is also a co-founder of Gnab Collective a loose group of artists around director/writer Martina Marti.
Samuli's works have been performed in the US, Portugal, the Netherlands, Sweden, Germany, Estonia, Japan and China. Samuli was the recipient of the Finnish Cultural Foundation's one-year grant in 2014. Samuli also serves on the artistic board of directors for the Tampere Dance Current Festival.
Mari Rosendahl
Dancer-choreographer
Dancer-choreographer-teacher Mari Rosendahl has been a key member of Dance Theatre MD since the founding days of Dance Theatre Dansco in 1988. She trained at the Finnish National Opera Ballet School, the Eino Salmelainen School and various other institutes in Finland and abroad.
A career spanning over four decades includes performances in dozens of productions ranging from dance to theatre, opera and television, teaching in numerous institutes, and collaborations with, among others, choreographers Tero Saarinen, Tommi Kitti, Ari Numminen, Helena Franzén and Jeanne Yasko, designer Stefan Lindfors, musician Ismo Alanko, directors Kari Heiskanen, Ilari Nummi and Jotaarkka Pennanen, and the comedy group Kummeli.
Many of Mari's works have been performed abroad to wide acclaim, especially in Germany. Mari also serves on the artistic board of directors for the Tampere Dance Current Festival.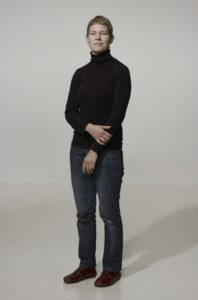 Elina Nopanen
Lighting technician
Henri Puolitaival
Sound technician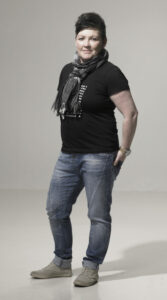 Sari Mayer
Chief lighting technician (on study leave)
Sari Mayer started working as a lighting technician for Dance Theatre MD in 2002. She received her theatrical technician's and lighting master's degrees in 2005 and 2009, respectively, from the Tampere University of Applied Sciences. Currently, she is MD's lighting designer.
Anniina Kumpuniemi
Managing director, dancer-choreographer
Dancer-choreographer Anniina Kumpuniemi has been a core member of Dance Theatre MD since its foundation in 1997. Beginning in 2010, she is MD's current managing director. Anniina received a choreographer's degree from the Theatre Academy in 1996, a dance teacher's degree in 1997 and a master's degree in dance in 2005. She also has a degree in management. She has performed in more than sixty dance, theatrical and opera productions, and choreographed ten pieces for MD and numerous others for various employers. Anniina is a dedicated advocate of dance theatre, working as a board member, chairman, liaison and columnist for various dance-related organizations, councils and publications. She is the founder of the Tampere Dance Current Festival. Anniina received Pro Finlandia medal in 2021.
Paula Haajanen
Theatre Secretary
Paula Haajanen received her cultural producer's degree from the Humak University of Applied Sciences in 2011. She has been MD's sales assistant since July 2012. Paula also has a degree in audiovisual communications from the Omnia Institute.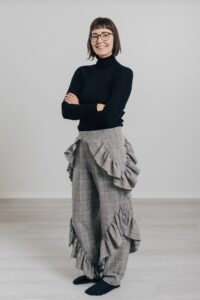 Asta Elijoki
Communications manager
Asta Elijoki graduated as a cultural producer from Mikkeli University of Applied Sciences in 2013. Since then, she has been working with performing arts, especially contemporary dance.
With Dance Theatre MD, Asta has worked as a communications manager since December 2022, being responsible for all communications and marketing tasks.
In the past, Asta has worked as a producer and communications manager at Regional Dance Centre of Eastern Finland (ITAK), a producer at Dance Theatre Minimi, a production assistant at ANTI – Contemporary Art Festival and as a freelancer producer for associations and artistic working groups.
GUESTS 2023
Heikki Järvinen, video designer, Igloo, Human-namuh
Lauri Järvinen, costume designer, Full Moon Efffect, Valintoja-Choices
Ella Kauppinen, costume designer, Counting Time
Uni Karinko, sound designer, Full Moon Effect
Petri Kekoni, choreographer, Counting Time
Sakari Kinnunen, dancer, Igloo
Jonne Nieminen, sound designer, Valintoja-Choices
Elina Nopanen, lighting designer, Human-namuh, Igloo, Counting Time, Valintoja-Choices
Antti Nykyri, sound designer, Counting Time
Ville Oinonen, dancer, Igloo, Counting Time
Minttu Pietilä, dancer, Counting Time, Valintoja-Choices
Janita Rantanen, dancer, Igloo
Tanjalotta Räikkä, dramaturge, Human-namuh
Panu Varstala, choreographer, director, Human-namuh