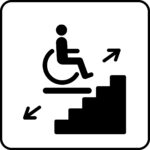 Wheelchair lift
The staircase is fitted with a wheelchair lift with a 81,5 x 87 cm platform and a lifting capacity of 300 kg. If you are coming with wheelchair please arrive at least half an hour before the performance starts.

Arriving with wheel chair
The theatre has seven wheelchair seats with companion seating. There is an accessible toilet adjacent to the lobby.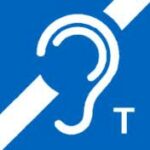 Hearing induction loop
The hearing induction loop system covers the lobby, the stage and the whole audience section.
Escorts have free entrance
Please inform us when booking the tickets if you arrive with wheel chair or if you need the hearing induction loop.