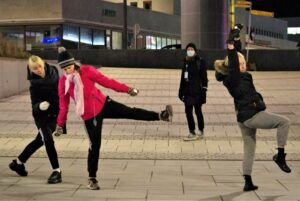 The contemporary dance in the city course
The contemporary dance in the city course, organized by Tanssiteatteri MD's dancers, utilizes one's own creativity in movement, develops body control, coordination and body awareness through the basics of contemporary dance. In the course, you get to know your own movement as well as listening to the movement of others and making contact in dance.
Participation in the course does not require previous knowledge of contemporary dance. An interest in movement, outdoor and urban space, as well as good footwear and clothing that enables movement are sufficient. As a wish, regular participation in classes. The language of the course is Finnish.
Before each session, we meet in Hällä stage and, depending on the weather, move outside.
Dance artists Joel Alalantela and Klaara Haapanen of Tanssiteatteri MD are the leaders of the course.
Meetings in spring 2023
Wed 18.1., 2.2., Wed 15.3., 30.3., Wed 26.4., Wed 10.5., Wed 24.5. from 16:45 to 18:30
The course participation fee for the spring is €87
Registration: anniina.kumpuniemi@tanssiteatterimmd.fi
Photo: Tuuli Pulma